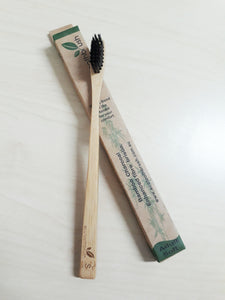 Organic Eco-friendly Natural Soft-bristle Bamboo Toothbrush
Natural fiber toothbrush with bamboo charcoal infused bristles
Our bamboo toothbrush features an ergonomic handle that is easy to maneuver. Forget about splinters and slivers. Our handle is smooth and comfy.
The super soft bristles toothbrush is gentle with your teeth. They are made from BPA free Nylon and are meticulously crafted to stay in the handle and not to fall out.
The curved shape of the soft bristles toothbrush ensures fine teeth polishing. It helps you clean every last corner of your mouth.